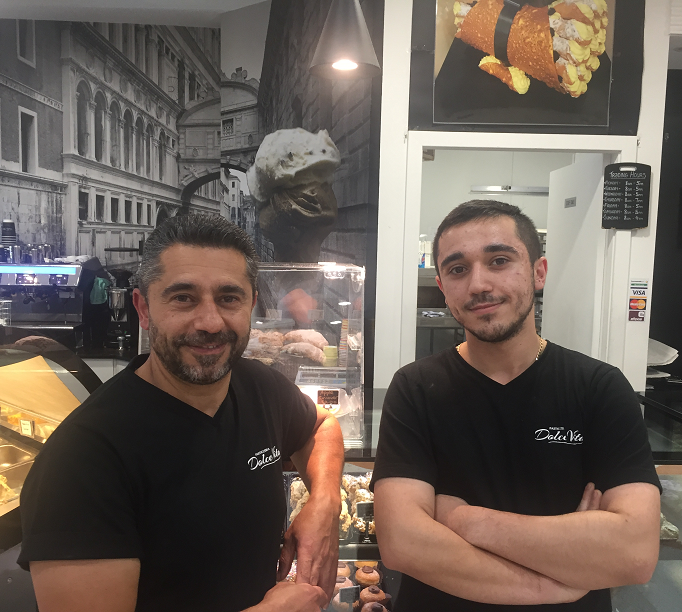 Domenic & Joel
How long have you been working in the industry?
Dom: I worked at Boulevard Cakes in Fairfield for 22 years, starting when I was 12 years old. Joel, my son, started in the industry 4 years ago. You could say that baking and all things food runs in the family!
Where is your focus now?
Dom: Here at Dolce Vita.
Joel: With no other store like this in the area we are keen to take advantage of this and offer our customers exceptional service and delicious food.

Where are your delicious pies, desserts, cakes and gelato made?
Joel: The gelato is all made fresh here on site. All other items are made in a cake factory that my dad manages.

Speaking of gelato, what is the most popular flavours right now?
Joel: Pistachio, cookies and cream, vanilla cannoli and red velvet.

And on the topic of cannoli, how many cannolis would you sell on a given week?
Dom: 600 large cannolis and 1,400 mini cannolis per week and growing!

We know you have a loyal following from all your years in the industry. How many would say have been following you from the beginning?
Joel: We would say the the number would be well in the triple didgets ... say 100 plus.

Does Dolce Vita cater for bigger projects?
Dom: Yes of course! We can cater for larger groups and to individual requests. In particular, we cater for birthdays on most weekends, which is not surprising given that we have been making birthday cakes for 25 years and have 36 years' worth of followers!

Who would you say is the face of the business?
Joel: I look after the customers and Dad (Dom) is the key man behind the scenes, as well as my sister Jayla and my dad's fiance Jade who play a big part in the running of the shop.

What is something about Dolce Vita that customers might not know about?
Joel: That we offer delicious coffee!
Any fun facts about you both outside of work?
Dom: I love cruising and would love to live on a ship when I retire. I also love making pizzas at home.
Joel: Playing video games, in particular FIFA, Call of Duty and Apex Legends.