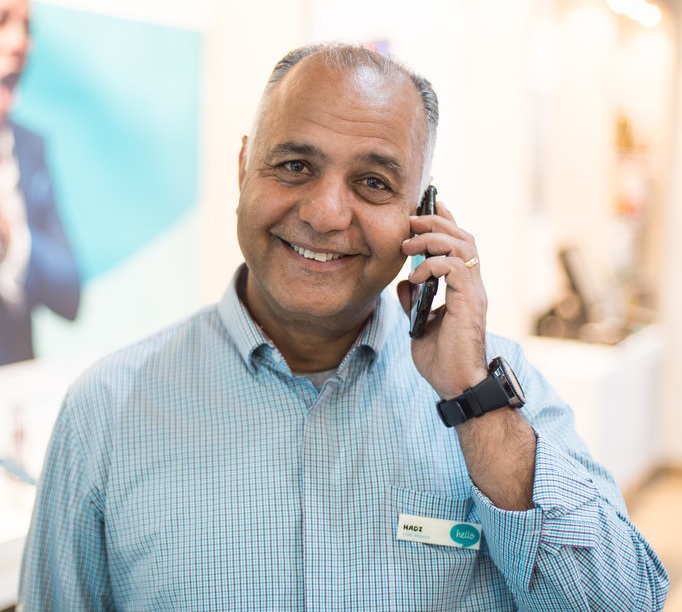 Hadi
Tell us a bit about your shop or service: We sell Optus services including mobiles, landline, internet and mobile accessories

What's in season or really popular right now with shoppers? The iPhone X and Samsung Note 8 have been wildly popular

… and what's your favourite thing in-store at the moment? I've been an iPhone customer since iPhone 3 about 10 years ago so you can guess the rest!

How long have you been working here? We opened in April 2017 but I've been in the industry for over 20 years.

Are you a big or small crew - how many of you working there? We have eight staff in total, all of whom are dedicated and passionate about technology

What's do you reckon is best part of your job? Getting to know your shoppers is very rewarding.

What are your interests in life? Any hobbies, interests or mad obsessions? I walk 10-15km each day in the area. I'm a big fan of action movies like the Die Hard and The Fast & Furious series.

So, do you think your shop or service helps make customers' lives easier? If so, tell us how: Our service is something shoppers really value. We give honest advice and support to all who need it.

Do you have local customers you know by name, or like to have a chat with? We know a lot of shoppers by name as we go out of our way to help. In fact I have the opportunity to visit the homes of shoppers who might not be as tech savvy and help with installation at no charge.

What is the funniest or most unusual request you've ever had from a customer? People sometimes come to us saying "My Facebook app or Instagram doesn't work" which can be out of our control but we always try to help.

What do you think makes Carnes Hill Marketplace a great community and/or good place to shop? The centre is able to service five - six suburbs easily within hard working communities.

Do you have a fave time of year in the centre and if so why? Christmas is the easy answer – it's just a special time of year.

Summer's on the way… what are you looking forward to doing/eating/buying? I'm lucky enough to have just come back from the Gold Coast with the family!